LONDON (AFP) — A new exhibition devoted to Madonna opens in London Saturday, featuring everything from a conical bustier designed by Jean-Paul Gaultier to an old American Express card in the star's name.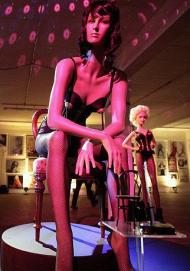 A display at the 'Simply Madonna Materials of the Girl' exhibit in London
"Simply Madonna: Materials Of The Girl" features some 300 outfits and knick-knacks from the US singer's career from the 1980s to the present day.
It runs at the Old Truman Brewery on Brick Lane in London's East End until March 22.
"It's the largest collection outside of Madonna's private collection," curator Ted Owen told AFP at a press preview.
The show traces Madonna's career and personal life and also features film contracts, a divorce document from her split with actor Sean Penn, plus the wedding dress worn in the "Like A Virgin" video in 1985.
It also features the American Express card from that year in the name of Madonna Ciccone, the pink dress worn in the "Material Girl" video and the wedding gown from the film "Evita."
Rank: Dita





Country

:





Number of posts

: 1400


Age

: 27


Languages

: English, German, Spanish, (French)


Registration date :

2008-01-02



Cool. All the stuff looks merely fake, but I'd would've still gone.
Rank: Rainbow high





Country

:





Number of posts

: 428


Age

: 26


Country (will be removed shortly)

: Canada


Languages

: English


Registration date :

2008-07-11



AHAHA,
TRUE CHANNEL.LIGHT!
Rank: Lucky star





Country

:





Number of posts

: 153


Age

: 24


Country (will be removed shortly)

: Australia


Languages

: English


Registration date :

2008-07-05



Does anybody know how long this exhibition will stay in London? Just in case that I'd get bored. lol
Rank: Little star





Country

:





Number of posts

: 39


Age

: 32


Languages

: German, English, (Spanish)


Registration date :

2008-04-22




---
Permissions in this forum:
You
cannot
reply to topics in this forum